Overview
Neuromas are generally benign or non-cancerous growths of nerve tissue, developing in various parts of the body. Morton?s Neuromas are confined to the nerves of the foot, most commonly, between the third and fourth toes. The condition involves a thickening of the tissue around one of the digital nerves leading to the toes and does not qualify as an actual tumor. The affliction causes a sharp, burning pain, usually in the region of the ball of the foot. A patient?s toes may also sting, burn or exhibit numbness. Often, the symptoms have been likened to ?walking on a marble.?
Causes
Unfortunately, the cause of Morton?s Neuroma remains unknown to researchers. It is likely that a variety of factors may play a role in the development of this condition, including the presence of chronic pain conditions like fibromyalgia. Factors that may contribute to the development of Morton?s Neuroma include Wearing improperly fitting shoes can cause pressure on your foot, leading to swelling around the toe nerves. High heels are of particular concern as they cause a large amount of weight to be shifted to the ball of the foot. Repetitive activities like jogging, walking, and aerobics can also place a lot of pressure on the feet. This could lead to Morton?s Neuroma. Having a previous foot or muscle injury may cause you to hold your foot in a poor position when walking, contributing to nerve inflammation. Some people are just born with poorly shaped feet. People with extremely low arches or "flat feet" may suffer from Morton?s Neuroma more than others.
Symptoms
There may be pain at the end of the push-off phase when walking or running, and this pain is generally worse when the client is wearing shoes as opposed to being barefoot. Clients may also report a relief of symptoms by massaging the foot, which may spread the metatarsal heads and mobilize the entrapped nerve.
Diagnosis
During the examination, your physician will feel for a palpable mass or a "click" between the bones. He or she will put pressure on the spaces between the toe bones to try to replicate the pain and look for calluses or evidence of stress fractures in the bones that might be the cause of the pain. Range of motion tests will rule out arthritis or joint inflammations. X-rays may be required to rule out a stress fracture or arthritis of the joints that join the toes to the foot.
Non Surgical Treatment
Conservative treatment for Morton?s neuroma involves footwear that allows your forefoot to spread. High-heeled shoes cause neuromas by squeezing and stretching your involved intermetatarsal nerve across the ball of your foot and should be avoided as often as possible. A shoe that possesses any toe spring will also place more stress on your foot nerves and increase your likelihood of developing a neuroma. Test shoes before you buy them to see if they are appropriate for your feet. Select shoes that have a removable liner or insole, and stand on the liner, noting the position of your foot. If your foot is wider than your liner, that shoe will irritate your neuroma by squeezing your metatarsal bones together.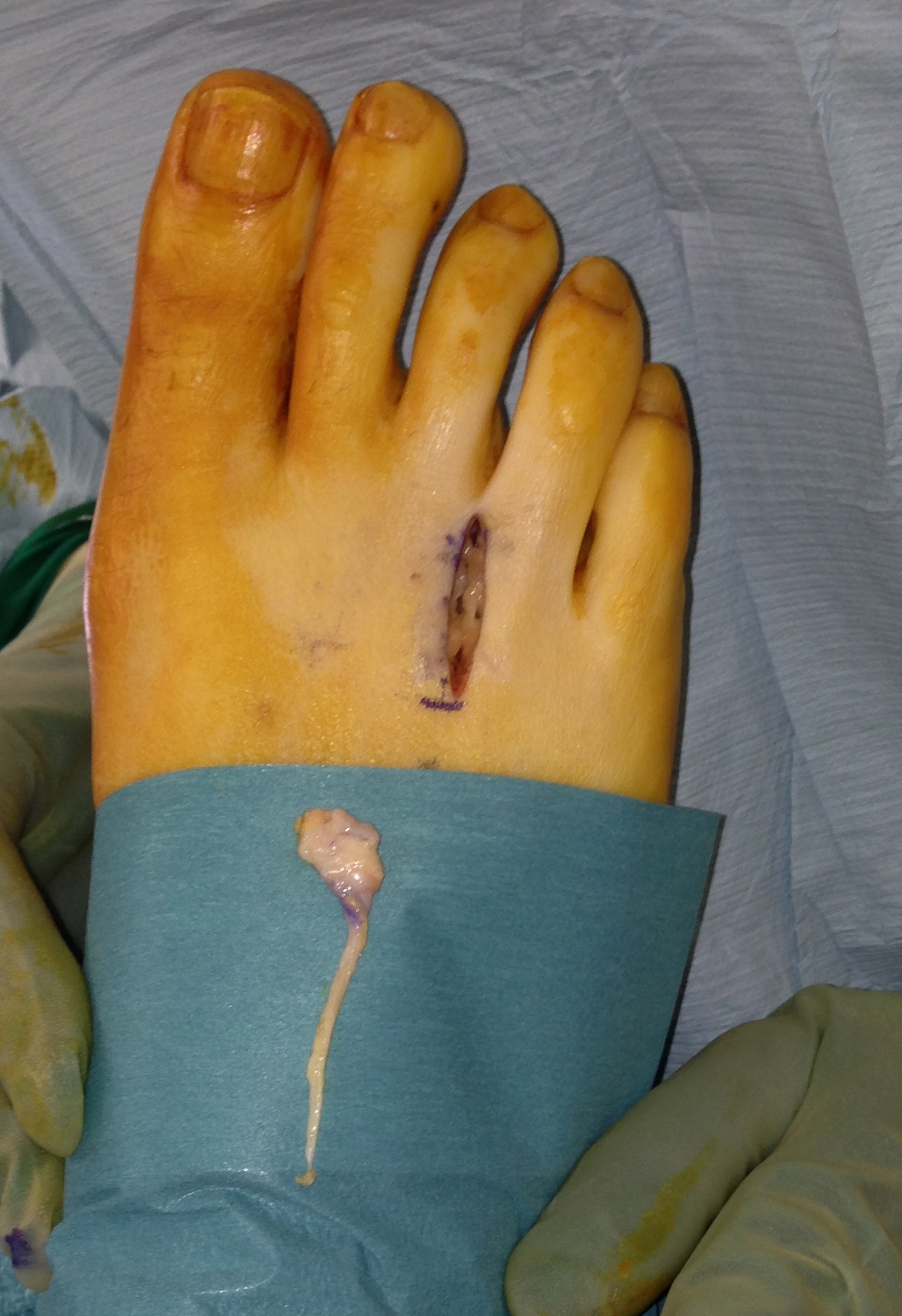 Surgical Treatment
About one person in four will not require any surgery for Morton's neuroma and their symptoms can be controlled with footwear modification and steroid/local anaesthetic injections. Of those who choose to have surgery, about three out of four will have good results with relief of their symptoms. Recurrent or persisting (chronic) symptoms can occur after surgery. Sometimes, decompression of the nerve may have been incomplete or the nerve may just remain 'irritable'. In those who have had cutting out (resection) of the nerve (neurectomy), a recurrent or 'stump' neuroma may develop in any nerve tissue that was left behind. This can sometimes be more painful than the original condition.